1991 Toyota Sunrader Exquisitely restored! Rare V-6 engine w/ 5-speed manual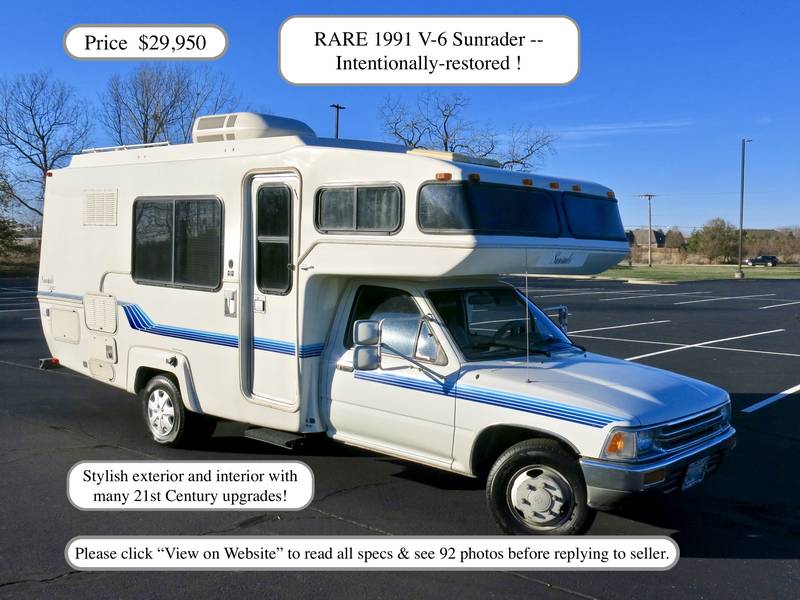 Description:
RARE Toyota Sunrader V-6 motorhome with 5-speed manual transmission. This attractive RV is way-above-average! Sunraders are considered the most sought-after of Toyota RVs, and ones with a V-6 engine are rather hard to find. Firstly, Sunrader is the only major brand of full-size Toyota RV which has a molded fiberglass shell, in two pieces put together with a clam-shell design. This makes them less prone to rain leaks compared to other types of RV construction. Click on "Read More" below for the entire description and a link to see all 96 photos. Most importantly, this 91 Sunrader is one with the more desirable V-6 engine. Compared to a 4 cyl, the V-6 engine gives you more adequate power for climbing hills and the ability to tow a moderate load. The ride in the cab is much quieter and the seats more comfortable than in earlier models. Toyota engines are known for their longevity and great gas mileage especially compared to any other van-chassis RVs of the same size and price. Although the 4 cyl. Toyota Sunraders are somewhat common, Sunraders with a V-6 engine like this are rather rare. This is because only for the last three out of 14 production years did the Sunrader factory use the V-6 chassis. And only about 6 or so of these come up for sale each year in the entire country. 1991 was the last production year for Sunraders, so this one is about as new as you can get. This V-6 engine has the rare 5-speed manual transmission which provides more nuance of control. It accelerates faster and has a higher cruising speed than an automatic, and also gets better gas mileage -- up to 17 miles per gallon; thats about twice the mpg of an American motor RV of the same vintage. Only about one in 10 Toyota RVs with a V-6 engine have a manual 5-speed transmission. It drives easily and handles more like a car than an RV. Interstate speeds of 70 mph are easy to maintain. "Way above average" aptly describes this coach. The reasons will become obvious when you read this entire description of its many features and upgrades. Most Toyota RVs that come up for sale need a fair amount of time and attention, and probably a good amount of money to make them comfortable and trouble-free again. Here now instead, is one that is ready to take camping right away. What you will read about consists of more than 100 different items and upgrades that the new owner WONT have to deal with because we have fixed or improved or added them already. Please know that this RV is NOT a project. Just the opposite -- everything has been carefully gone over to be as nice as possible. Restoring Toyota RVs is our hobby and we have finished almost 5 dozen of them in the last 20 years (about 3 per year). My assistants and I have carefully refurbished this coach to be optimally usable for the next owners. We are experienced in what we do and take pride in our work. There is a lot of satisfaction in putting one back on the road as it was meant to be with everything working again as perfectly as we can make it. Its new owners should not have to do much of anything to it, except to personalize it with extra enhancements. The floorplan of this one has a sofabed behind the driver, a bench seat dinette behind the passenger, and the bathroom in the back. (The bathroom has a separate full fiberglass shower, not with the toilet in the shower stall). Sunraders are designed with several unique features (see below) that make them quite comfortable to drive and to camp in. This original V-6 engine/chassis has only moderate miles on it -- only 80,200 which is slightly less than average for a Toyota RV. We personally know of several well-maintained Toyota Winnebago RVs with over 200,000 miles that are still on the road and being enjoyed as much as ever. This chassis is mechanically better than most, having been well-cared for by the previous owner. It was recently driven from California with no issues. An inspection by a mechanic has determined that this Toyota chassis has no engine or transmission performance issues. The engine is very clean The head gasket recall was completed in September 2002 The underside has no significant rust present The oil was changed this week; coolant is full Air filter is new Engine battery is relatively new The front suspension has been serviced with new steering dampener Muffler and exhaust system are in good condition with new chrome tail-pipe tip Brakes perform adequately - 50% left on the fronts, and similar on the rears The vehicle drives straight and smoothly down the road All six tires are newly installed (Lionhart LH-CTS). It has the full-floating one-ton rear axle and six-lug wheels throughout. Spare tire is located underneath. There are Ride-Rite Air Springs in the rear to provide leveling of the load, a more comfortable ride for passengers, and for additional leveling of the coach somewhat while camping. You can have confidence that this RV will perform better than most others of this vintage. Specifically, it is MUCH more apt to be free of all the unexpected surprises that often come with used RVs that are for sale because their sellers just want them gone. Compared to most that are out there that are "projects," this one instead is in way-above-average condition. The exterior has been polished and detailed, and the exterior stripes refreshed. The outside mirrors have been refurbished to look presentable. The front wheels have been painted. The rear tail light assemblies have been cleaned and tested. Many other exterior areas have been detailed too. If you didn't know, finding a nice-looking exterior on a Toyota RV is a hard thing to come by. You can be proud to drive this stylish-looking coach. The interior of this coach is also in good condition as well, with blue-toned velvet upholstery and decor. FLOOR PLAN specifics: Full-size overcab bed sleeps two adults Sofabed behind the driver makes a cozy bed for two The dinette makes into a shorter twin bed (meaning it can sleep a total of five) Kitchen (stove, combo microwave and toaster oven, double stainless sink, and refrigerator/freezer) is located in the center Bathroom in the rear has sink, toilet, separate shower, and a tall closet for storage 21 feet in length overall (easy to park in a regular parking space) UPGRADES: This coach includes all standard features plus these significant upgrades compared to other models of Toyota RVs: Cell phone charging station added by overcab bed (12v outlet and shelf for phones) HD-TV installed on swivel bracket has a remote control that stows in a wall pocket 200 watt inverter operates 110v items without being plugged in to an external electrical source All interior light fixtures have been replaced with low-drain LEDs. (This means the coach battery power will last a lot longer even if more lights are turned on at night for better illumination.) An additional LED Light Square has been added for bright lighting in the kitchen Bathroom ceiling fan has been replaced with a new one that has a LED light ring for even more illumination in the bathroom Hot water heater lights from a switch inside (very convenient) Combination microwave oven and toaster oven is a very clever use of the space (uncommon to see one like this) 12v rotating fan added - makes a nice breeze for cooling inside the coach in hot weather New digital refrigerator thermometer installed with external readout (very handy) Easy-on LED entry light added by door Roof vent has an outside cover added to allow ventilation even during rainy weather Rear tires have braided metal valve extensions added to make them easier to fill 12-volt deep-cycle coach battery is new UNIQUE TO SUNRADER FEATURES: Slide-out pantry shelves under sink Stylish fiberglass overhead cupboards (not available on all models) Under-table storage drawer Built-in flatware tray in kitchen drawer Full size medicine cabinet in bath Ducted heating for even distribution of heat from furnace to dinette, kitchen, & bath Extra large propane tank 8 gallons (almost twice the size of a standard tank) Two (not one) lighted exterior storage compartments one with carpet lining ALL SYSTEMS HAVE BEEN TESTED AND EVALUATED: Refrigerator /freezer cools quite adequately 3 ways on either propane, 110v, or 12v electricity Coleman brand roof air conditioner blows cold; filters have been cleaned Converter /on-board battery charger keeps12v deep-cycle coach battery charged Propane furnace, water heater, and stove all have been tested and work as designed. - Stove, toaster oven, and stove hood have been disassembled and cleaned. - Furnace functions to keep the coach adequately warm. - Hot water heater was cleaned and adjusted, and functions fine. - Propane tank valve replaced with a new one (tank capacity is jumbo size) Fresh water pump has been tested no plumbing leaks Fresh water tank and lines have been sanitized and winterized Toilet replaced with a more convenient foot pedal flush model Holding tanks are empty and tank gauges function as intended (often not the case with used RVs) Sewer valve replaced with new (pulls open easily) All cabinet screws have been tightened, due to loosening over time Mini-blinds all function properly with missing parts replaced Exterior locks and door hinges have been lubricated All windows, vents, seams, and exterior compartments have been checked and re-caulked where necessary Windshield wipers and sprayer operate as intended Clearance lights function as they should. (Non-functioning lights are a common problem on Sunraders.) CAB AND CHASSIS FEATURES: Easy and quiet to drive Power steering Tilt steering wheel Cruise control mounted on steering wheel 5-speed manual transmission drives responsively 5 additional seatbelt sets in rear, on the sofa and dinette seats Dash clock (not all have this) Newly-installed AM-FM radio / CD player in cab has aux input, remote, and quality speakers in both cab and coach Additional brighter ceiling light added in cab Cab air conditioner blows cold Fresnel lens added on rear window for wide-angle viewing while driving Jack and all jack tools included ADDITIONAL INTERIOR FEATURES: Interior is much cleaner than most overall (especially inside storage areas) Shelf liner added throughout in all cupboards and drawers Non-smoking vehicle, no pets Windows are tinted to help keep the coach cooler in hot weather Smoke detector and fire extinguisher added for safety New wall clock New combination propane and CO leak detector installed at base of sofa Metal cover for stove burners (with anti-rattle pad) maximizes counter space Support leg installed for additional support under sofabed Shampoo rack and towel bars added in shower Spice racks over refrigerator and over stove Magazine rack added by the entry door Kleenex dispenser and paper towel dispenser added Hat hooks and key hook added by door ADDITIONAL EXTERIOR FEATURES: Pull-out step with new carpet cover Stylish rear wheel covers Rear ladder to roof Exterior 110v outlets for patio area GENERAL INFO: Title is clean and clear with no liens The original Sunrader manual for RV systems, original Toyota chassis manual, and recent service records are included BONUS -- All the following accessories (valued at over $200) are also included with the purchase of the vehicle : Cab console and waste bin Cab floor mats Steering wheel cover Mirror on visor Reflective sunshade for windshield when it is hot weather 12v USB charger/splitter for cab New exterior Welcome mat Entry door mats Step stool for easier access to overcab bed New cozy blanket throw for overcab bed Matching throw pillows Broom (stows in closet) Two wastebaskets (bath and kitchen) New pot holder and kitchen towel Sink cover /cutting board New toilet lid cover New bath mat Freshwater hose in storage pouch Freshwater pressure regulator and new sanitary filler attachment Sewer hose with donut fitting (required at some campgrounds) RV holding tank chemical and disposable gloves New refrigerator bin, and ice tray and bubble level in freezer Convenient shelving racks added in cupboards Paper towels and toilet paper Butane lighter for stove Nightlight to confirm that 110v power is connected New fly swatter (an essential camping item) Tire pressure gauge for testing tires Warning triangle for roadside emergencies. Automotive funnel Custom-made wood ramps for leveling the RV 30 to 15 amp power adapter Two key sets, with an extra key in hidden magnetic key holder Plus additional tools and numerous enhancements from an experienced RVer In addition, a built-in style Onan 2800w Microlite Generator is also available for $1995 if the new owner would like to purchase it. (This is about half the cost of a new one.) This generator has been recently serviced and runs as designed. The RV is pre-wired for a generator with controls inside the coach, and already has a transfer switch for automatic switching. If purchased, the generator can be installed into the exterior generator compartment prior to pick-up. After many months of meticulous attention to details, this coach is now ready to drive and comfortably camp in again. What you will be getting with this RV is the peace of mind that the multiple issues that regularly come with used Toyota RVs have now already been taken care of for you. The location is Morris, Illinois, which is about an hour southwest of Chicago on Interstate 80. The price of $32,950 is keeping with the time and effort and expense that it has taken us to restore it to be in the way-above-average condition that it is. The fact that we have already spent so many thousands of dollars on it means that you shouldn't need a huge budget for repairs over and above the purchase price. This is a significant factor because most buyers are not aware of the often extensive expenses (for neglected engine work, broken appliances, etc.) that will likely be required for most other used Toyota RVs that are out there for sale. Please call for more info about this unique RV and to have your questions answered, 626-798-XXXX (no texts). Leave a message with our voicemail and we will call you back soon. The right next owner for this Toyota V-6 Sunrader RV is someone who knows a real gem when they see one. If you are seriously interested in this rare RV you will want to cut and paste this link into your address bar to see all 97 photos of it. tinyurl.com/Restored-1991-Sunrader-V6-5spd
Visit Our Partner Website
This listing was posted on another website. Click here to open:
Go to RVT Classifieds
Important Safety Tips
Meet the seller and test drive before you buy.
Be cautious of underpriced items.
Don't wire money or take advance payments.
Only pay for shipping if you know the seller.
To learn more, visit the Safety Center or click here to report this listing.
More About this Listing: 1991 Toyota Sunrader Exquisitely restored! Rare V-6 engine w/ 5-speed manual
1991 Toyota Sunrader Exquisitely restored! Rare V-6 engine w/ 5-speed manual is a 1991 Motorhome in Morris IL. Find other listings by searching for
1991 in Ottawa
on Oodle Classifieds.